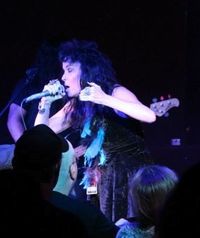 I just turned in the final songs for the Hellion anthology, as well as the credits, the art, etc.  Now everything is in the hands of the folks in London. 
This project has taken a long time.   As you know, we had a contest where we asked people to name the new anthology last year.  Then, we had to create an album cover to fit the title.   This process took months.  I can't wait for you to see it!
 
Next, I began trying to contact the musicians that previously played in Hellion, as well as a number of people who worked with the band.  The original idea was to have as many of the former band members participate in making some new music.  Unfortunately, there were many people I couldn't reach.  Some of them have simply disappeared.   A few are deceased.  Others would not return my phone calls.   And, after so many unreturned calls, I had no option but to bring new musicians on board to record the new music.
 
One of the hardest things about putting this anthology together was waiting for people who chose not to return my calls.   I am not naming names.  There are too many.
 
It has been hard speculating why some people didn't want to participate.  I am admittedly ADD and one of my traits is that I am not very good at noticing, or responding to, social cues.  I often like to keep quiet and some people have mistaken that for arrogance, even though I never had such intention.  If I was ever rude, or if I ever offended anybody, I am sorry.
 
I understand why some former band members may not want anything to do with reforming the band, or with reviving Hellion's legacy.  Most every musician who played in Hellion put their heart and soul into the band and saw their dreams turn into disappointment.   While I have carried Hellion's banner for years, there have been many times in my life when the thought of what could (and should) have been were so great that I could not even stand listening to the music I love, because the memories were simply too much to endure. 
 
I respect and understand those former members who did not return calls.   We all have our own lives to live; our disappointments; our priorities.   I can only hope that, at some time in the future, we can share a meal, a drink, and a laugh.   And, I hope that the people I could not contact know that they are missed.
 
 
I have gone out of my way to make the "To Hellion And Back" anthology something special.   I hope that it will not only respectfully preserve the band's thirty-year legacy, but will also introduce both the old and new tracks to friends I've not met yet.
    
 
 
While Hellion has always enjoyed the support of Americans, it was no surprise that the record company that chose to undertake the effort to re-launch Hellion is based in England.  (We will be releasing details about our new record deal soon).   Even better is that a number of the people who are involved with the re-launch are people who supported Hellion from the start.
 
The label manager first saw Hellion perform live at The Marquee in London.  Malcolm Dome from Kerrang! wrote the liner notes for the new anthology.  Martin Hooker, who signed the band to Music For Nations ages ago, helped by putting me in contact with people in the UK.  John Tucker, Dante Bonuto, and many more have lent their encouragement.      
 
Hellion plans to do shows in the USA, the UK, and in Europe this year.   I am privileged to have gathered a band of veteran performers who are carrying on the tradition of first class heavy rock and metal.  On the very first day of rehearsal, the new band sounded as if they had been playing together for years (and indeed some have).  It is indeed a special line-up.
 
From this point forward, there is no looking back.  Hellion will be attending the NAMM later this month.   If you see us, please say hello.    After the NAMM show, we will begin to mix the remaining songs for our five-song EP which will be released a few months after the anthology.  Between the capable hands of Ken Scott, and Wyn Davis, the new tracks are sounding better than ever.
 
As I pour myself a glass of merlot, have a bite of my favorite cheese, and contemplate an early night of slumber with my two cats, Gizmo and Garfield, I look forward to seeing Simon when he returns from touring with Geoff Tate's Queensryche.  2014 is off to a good start!
 
-Ann Boleyn-
 
Los Angeles
January 15, 2014