Hi Friends,
Forgive me if I am rambling a bit, but its late and I've had a couple glasses of red wine.  
It had been a while since I posted anything here, so I figured it was about time.  Might as well do it now.
First of all, Simon and I bought a house and moved into a house together on Christmas Eve of 2015.  The place we bought was about a block from the house where Ronnie James Dio lived when Hellion started working with him in 1984.  I used to call it the Donna Avenue house.  
You should not believe the state of the houses we looked at.  Basically, unless you are a millionaire you are damn luck to get a decent house in Los Angeles in 2016.  L.A. has always's been expensive, but the prices for property here is outrageous.  (No wonder so any bands stayed in places like Seattle, Ohio, etc.!)
After looking at close to 100 houses that were for sale, when the house we are in now came on the market, I knew we had to jump FAST.  Can't tell you how stressful it was!  Happy it worked out.
Although we've been here a while, there are still some things in boxes, and it's driving me crazy!  My goal for this weekend is to get the library/office organized for future songwriting and jam sessions.
Can't say how much I love the flowers here. By the way, I learned today that the bush with the pink flowers is called an Anne Boleyn Rose Tree.  Kind of cool.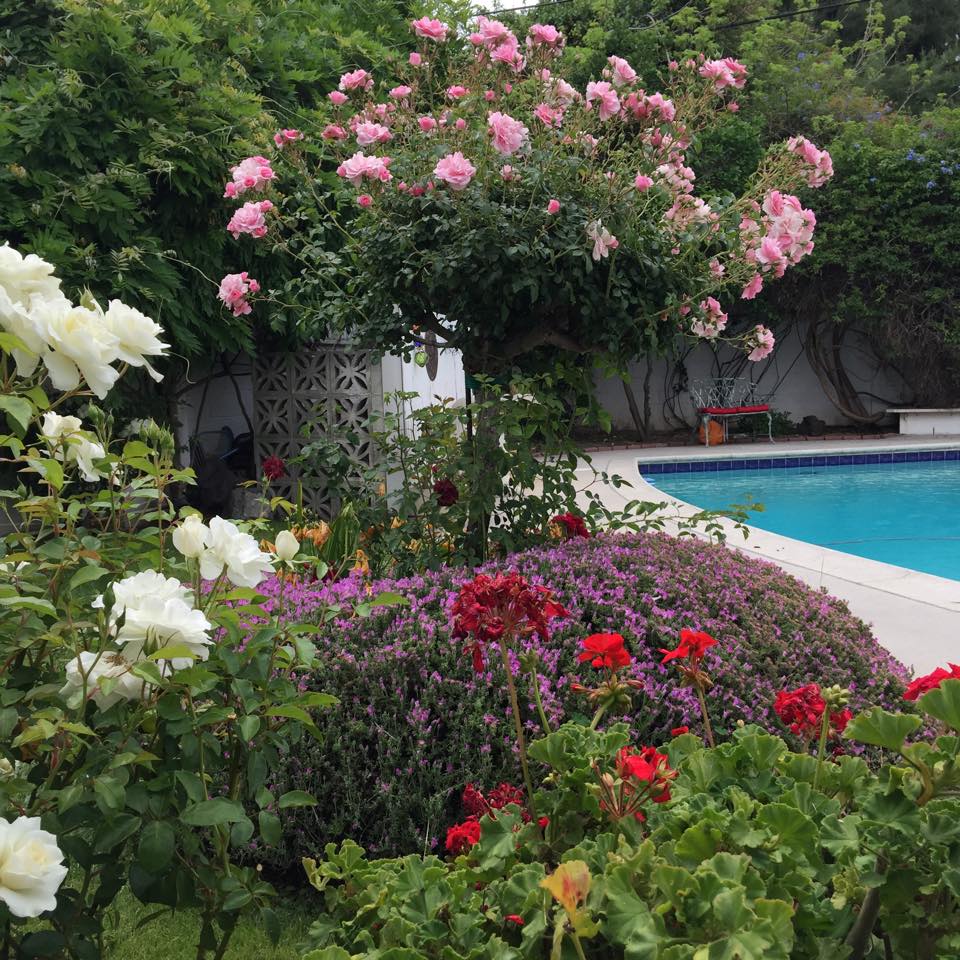 Anyway, its been a bit of an adjustment living here -- with FIVE cats!  I will post pictures of then all later.  
Hellion was planning a bunch of shows in May in Arizona (with Accept) and also headlining in Idaho and Washington state.  The gigs fell through, but now I'm on a mission to plan a full tour.Really have the jones to get on the road.  Sitting with the flowers is nice, but only for a while.
On the 14th we've got some time booked at Total Access Studios to start mixing the live Hellion tracks.  I also need to nail down the dates for the re-release of some old Hellion stuff.  Also new material has got to be written too!
Going to sing a couple songs at the Ultimate Jam Night at the Whisky on Tuesday.  Gonna do Heaven & Hell and Holy Diver or Stand Up And Shout.  Never sang either Stand Up And Shout or Holy Diver before, so I have to learn the lyrics this weekend.  Hope to see you if you are in So. Cal.
Simon comes home on Monday.  He's been touring with Geoff Tate.  Miss him a lot. 
I'm knackered and need to go to bed! 
Ann