Hi Everybody,
Just wanted to let everybody know what we're up to!
We just returned from the Monsters of Rock Cruise.  Here's my re-cap.
Day 1  (Monday)
We arrived in Miami on Monday at about 8:00 a.m. in the morning after a long flight from Los Angeles.  From the airport we went to a hotel to hang out for a while until the shuttle to the ship arrived.  We boarded the Norwegian Pearl in the afternoon and then went to check out our rooms.  Thanks to the Monsters of Rock Cruise, we all had beautiful state rooms with balcony's that overlooked the water!
After checking out our rooms, we headed out to look at the stages where Hellion would be playing and to make adjustments, if necessary.  Since none of us had ever been on this ship, we did not know what the venues would be like. 
Next stop was the buffet, which is free on cruise ships!  Gotta say that the food on the Norwegian Pearl was the best I've see of all three Monsters of Rock Cruises.  Instead of the hotdog pizza that was spotted on the ship a in 2014, this one had everything from Indian food to sushi!  Yum!  However, after a quick bite it was back to work.
On the first evening I was honored to be asked do a song with the Dio Disciples.  I sang Sign of the Southern Cross, which is one of my favorite songs of all time.  It is always an honor to perform such a wonderful song with such great musicians.  The guys all did a great job and the response to all of their songs were excellent.
I would have liked to stay out late and listen to the great bands that were on board, but, Hellion was set to play the following day so I didn't want to be out late.  Besides, I was beginning to get a sinus infection and my ears were still plugged up from the airplane!  Its times like these when you wish you were a spectator, instead of a performer!  I settled in for the evening with a book, while rest of the guys went out and listened to the great bands that were on board.  Thankfully I could hear a lot of the music from the balcony and it sounded great.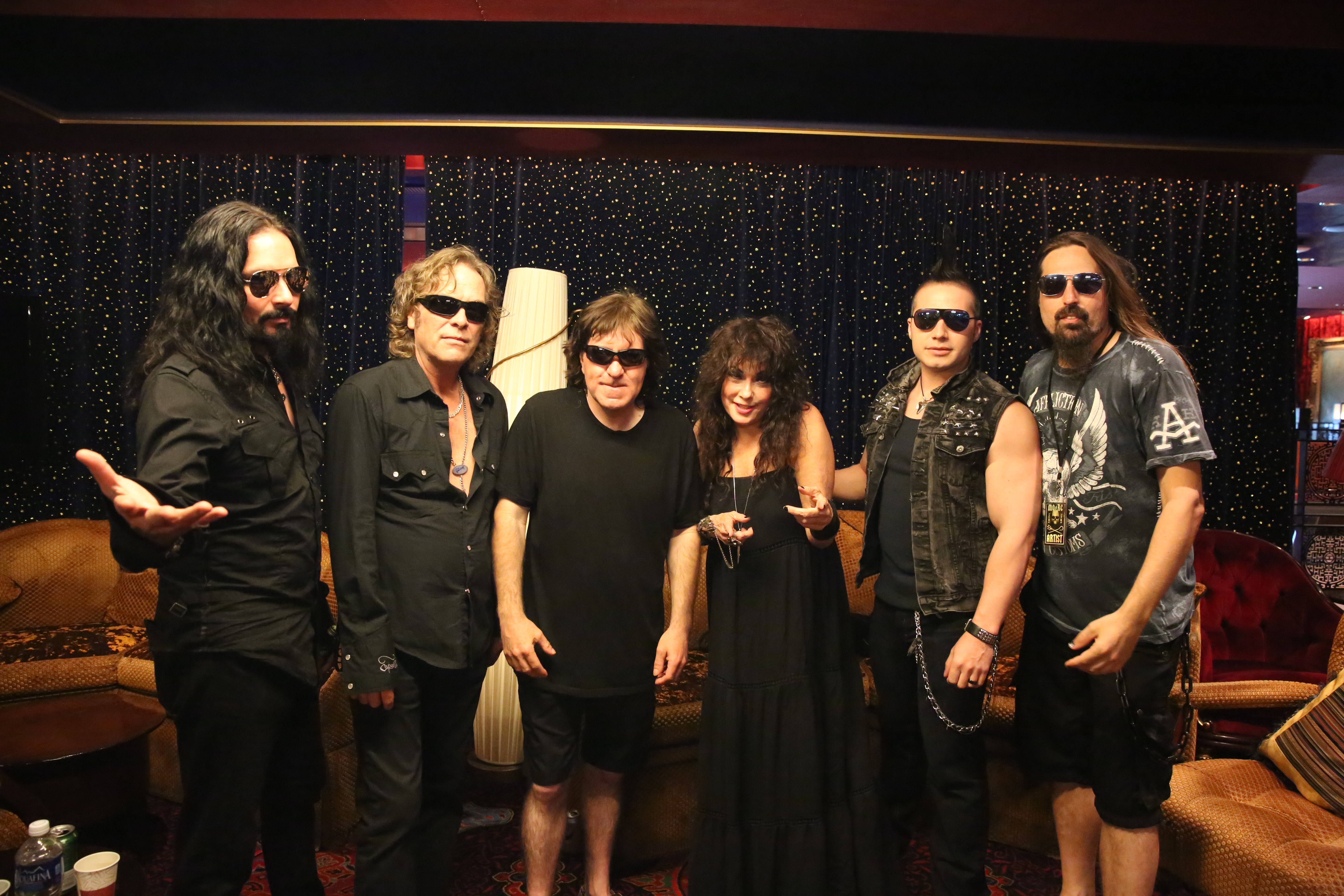 Day 2 (Tuesday)
I woke up on Tuesday morning to the sound the ocean makes when the waves crash into the side of the ship.  The Norwegian Pearl was docked at a small island in the Bahamas and a lot of people took advantage of the opportunity to get off the ship.  Some of the Hellion guys managed to spend a little time on shore.  However, since Hellion was scheduled to perform that afternoon in The Atrium, I decided to get some coffee and review the set list.
The Atrium was a big two-story open room inside the ship.  We were happy that we were inside because it was windy outside and looked like it might rain.  The Monsters of Rock Cruise had built a good sized stage in the Atrium.  However, since we have six people in the band, including the keyboards, we had to make some adjustments -- which is common on most any festival-type gig.  While the stage was tall and deep, it was not wide enough to accommodate all of the gear. This meant that Simon Wright was only able to use a single bass drum, instead of the double-bass set he usually uses.  That meant that we were not able to perform the drum solo & instrumental part that we have been doing on tour.
It was cool to see all of the people show up wearing Hellion tee-shirts.  People had come from Brazil, Belgium, Germany, Argentina, Canada, the US, and pretty much all over the world. 
After the show, a group of us headed to one of the big dining rooms.  The food on the Norwegian Cruise line is excellent to start with, but for a few dollars extra you can upgrade for even better food!  I spent $25 extra and ordered the surf and turf and it was soon worth it!   (Hint:  If you are going on the Monsters of Rock Cruise this fall, spend the extra money!  You won't regret it!)
Armored Saint, Steve Vai, Madam X, and Gotthard were playing that evening, as well as a bunch more.  It is hard to see all of the bands!  (By the way,  I'd never heard Gotthard before, and they are great!  Got to get some of their music!)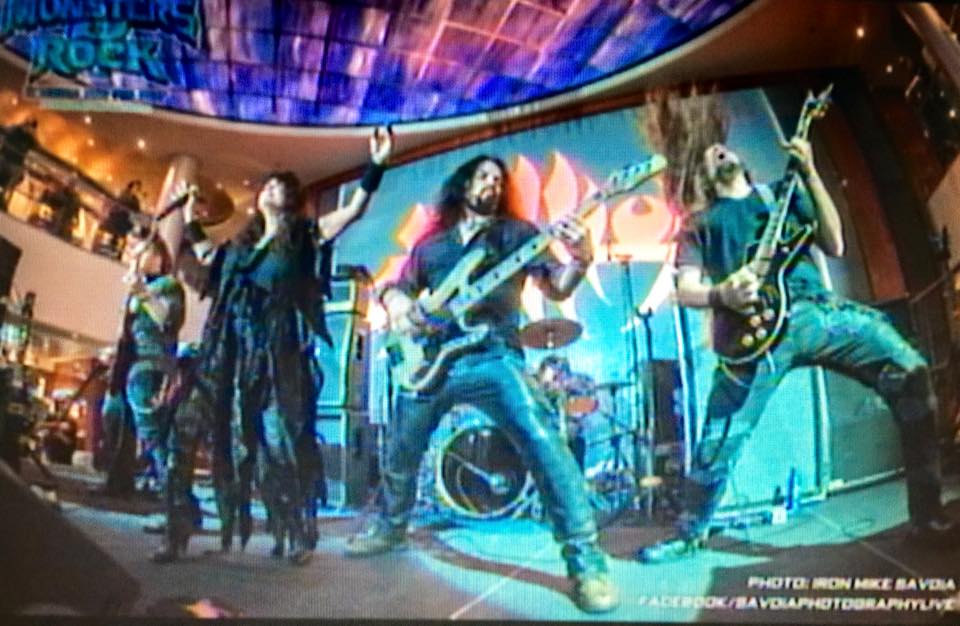 Day 3  (Wednesday)
Wednesday was another day at sea.  However, it was certainly not a day off!
Simon, Scott, and Bjorn were scheduled to do a meet and greet for the Dio Disciples, starting at 11:00 a.m., along with Metal Church, Doro, and Archer. During the meet and greet, I ran into Doro.   
The music on the ship started at 1:00 p.m.  Uli Jon Roth performed in The Spinnaker, which is the room where Hellion was scheduled to play on the following day.  
At 2:30 p.m. the mighty Y & T started their set.  Ira and myself joined them onstage for their encore.  It was a blast!  (Thanks for the invite!)
At 3:30 p.m. Hellion was scheduled for a meet and greet along with Halloween, Armored Saint, and Paradise Kitty.  It was fun to meet everybody!
D-A-D performed in The Spinnaker at 5:15 p.m.  I had never seen them before and really loved them!  (My only complaint was that it was so hard to see them because the stage in that venue was so low.)
Jeff Scott Soto, Helix, Archer, Steve Vai, XYZ, Lynch Mob, Killer Dwarfs, Queensryche, Heavy Mellow, Madam X, Kingdom Come, Winger, and Armored Saint were among the acts that were scheduled to play.  All of the bands I heard were outstanding.   (The real surprise for me was Kingdom Come, who I hadn't heard in years!)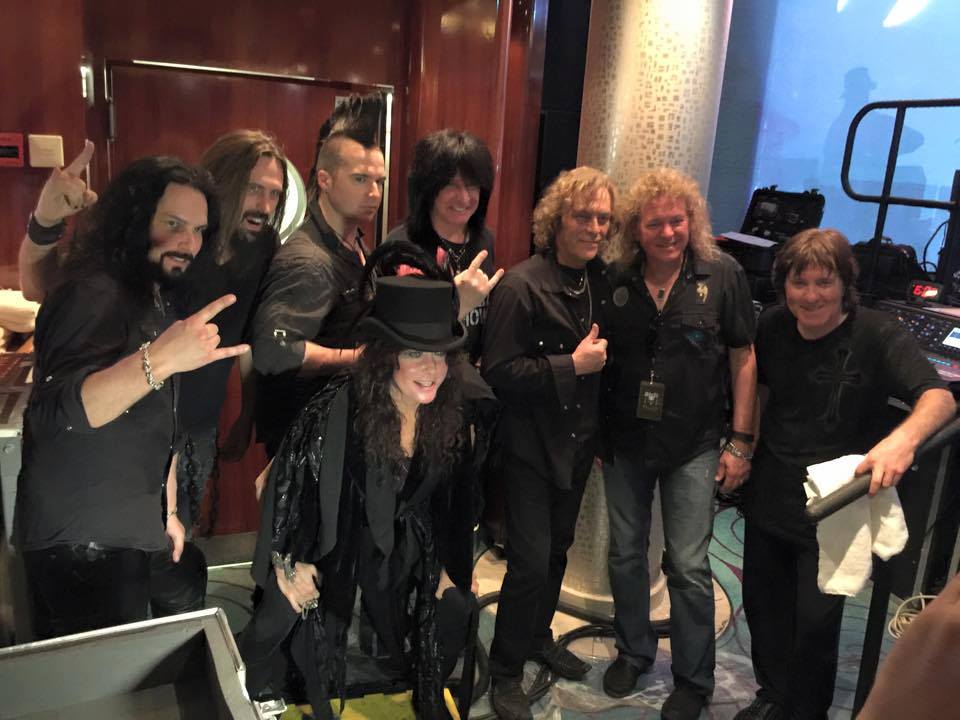 Day 4 (Thursday)
Thursday was the last full day we had on the ship, so lots of bands and activities were scheduled.  It was also the only day on the cruise when the ship stopped in an actual town.  (The town was Nassau.)  In the past years, I have always got off the ship in Nassau,  However, since Hellion was set to perform at 1:00 p.m. -- which I was told was the same as 9:00 a.m. in the morning in Los Angeles -- I decided not to risk going on shore and not getting back in time.
Thanks to all the supporters who came out for the show!  It was a blast!  I want to give a shout out to the folks from Belgium who came wearing their hand made Hellion shirts!!  Nice!
Vixen, Saigon Kick, Tesla, Halloween, Vinnie More, Sebastian Bach, Dangerous Toys, Extreme,and Metal Church were just a few of the bands that were playing on Thursday!  However, for me, the most important show for me that day was Doro!
I first joined Doro on stage on the 2014 Monsters of Rock Cruise and it was something special.  (By the way, that performance was the first time I had ever went on stage to sing live with any other single singer.  Just some trivia,).  
Doro's show didn't start until 11:15 and was one of the last shows of the cruise. Needless to say it was a long night!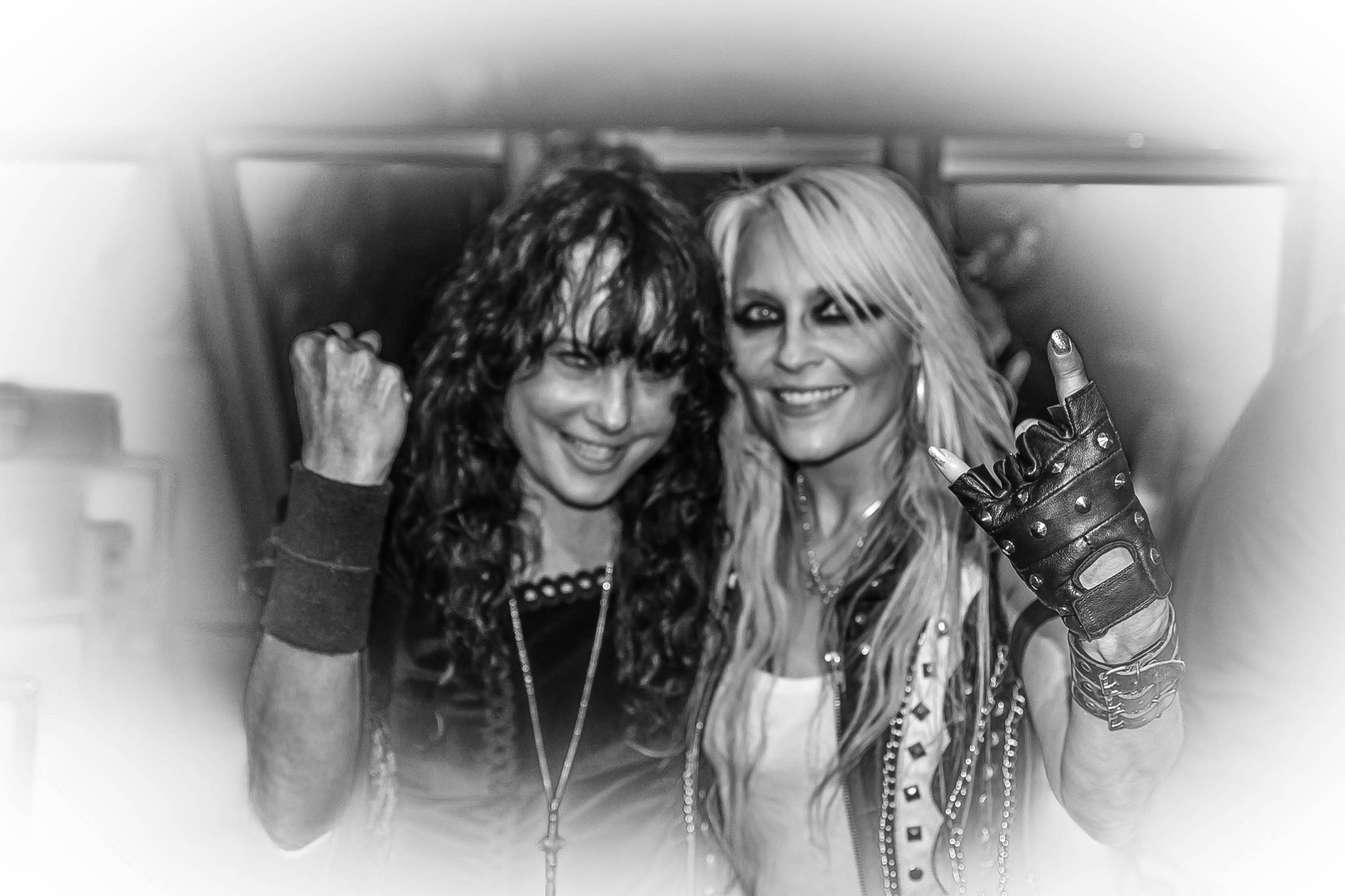 Day 5  (Friday)
Day five started way too early!  I'd set the alarm for 6:00 a.m., because we were scheduled to leave the boat at 8:00 a.m.  However, at about 5:00 a.m., I received a call from Maxwell Carlisle.  Before I could answer the phone, I could tell that the ship had stopped and presumed we had docked in Miami.
After fumbling in the dark for the phone, Max told me to hurry and come to Matt's cabin because our tour manager was being arrested!  (In wild days of the 80s, such a call would not have been much of a surprise.  However, in 2016, its been YEARS since any member of any Hellion entourage has had any run-ins with the law!)
By the time I got to Matt's cabin, Matt was gone.  Max told me that Miami-Dade police had come on board and taken him off the ship!  (I was at least received to learn that there were no guns drawn -- which means that he was not wanted for a felony.  Felony arrests generally require guns be drawn in most parts of the USA.)
I went down to the ships' front desk to ask if they had any information.  A receptionist was already familiar with what was happening and told me, "Don't worry.  It's probably a traffic ticket.  It happens all the time!"
Thankfully, Hellion made it to the airport without any problems.  But, we were worried about Matt, who was apparently still in custody.  
Once back home, we learned that Matt had been arrested "by mistake" for an alleged traffic ticket from 23 years ago -- which Matt had paid!  (As of this weekend, he's been in touch with the Miami Attorney General's office!)  
I guess this goes to show that you never know what is going to happen when you are on tour!
-Ann Boleyn-
(March 11, 2016)
PS:  I just found out that Detente has released some of my demos without my permission on a new CD.  I will be addressing that in a separate blog.