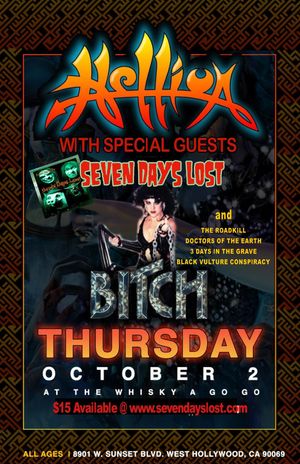 Hi Friends,
Tomorrow the Hellion North American tour begins at The Whisky.  Fireball Whisky heard a rumor that there are a few Hellions who like their product.  So, they surprised us with a box of Fireball collectables that we are going to share with our friends. 
Its been a hectic week, so this is going to be a short post.  Greg Smith arrived last Sunday, and we rehearsed the same day.  Then we had to change rehearsal studios (not fun), and had two days of rehearsal at a different studio.  I am a big fan of Glenn Hughes, and it was really nice to walk out of our rehearsal room and hear him singing "Burn."  
I have my clothes in order.  My custom-made mic stand arrived.  However, I am still making last minute changes to the set list.  And, Scott is still making edits to the introduction song.  So, there's a lot to do before tomorrow night!
I will be posting updates, as they occur, from the road.  Hope to see you soon.
Best Witches,
Ann
PS:  Thanks to all who voted in Noisecreep's Poll.  We missed the #5 position by 1 vote!  Now a bad start for a band that hasn't had a new album in more than a decade.