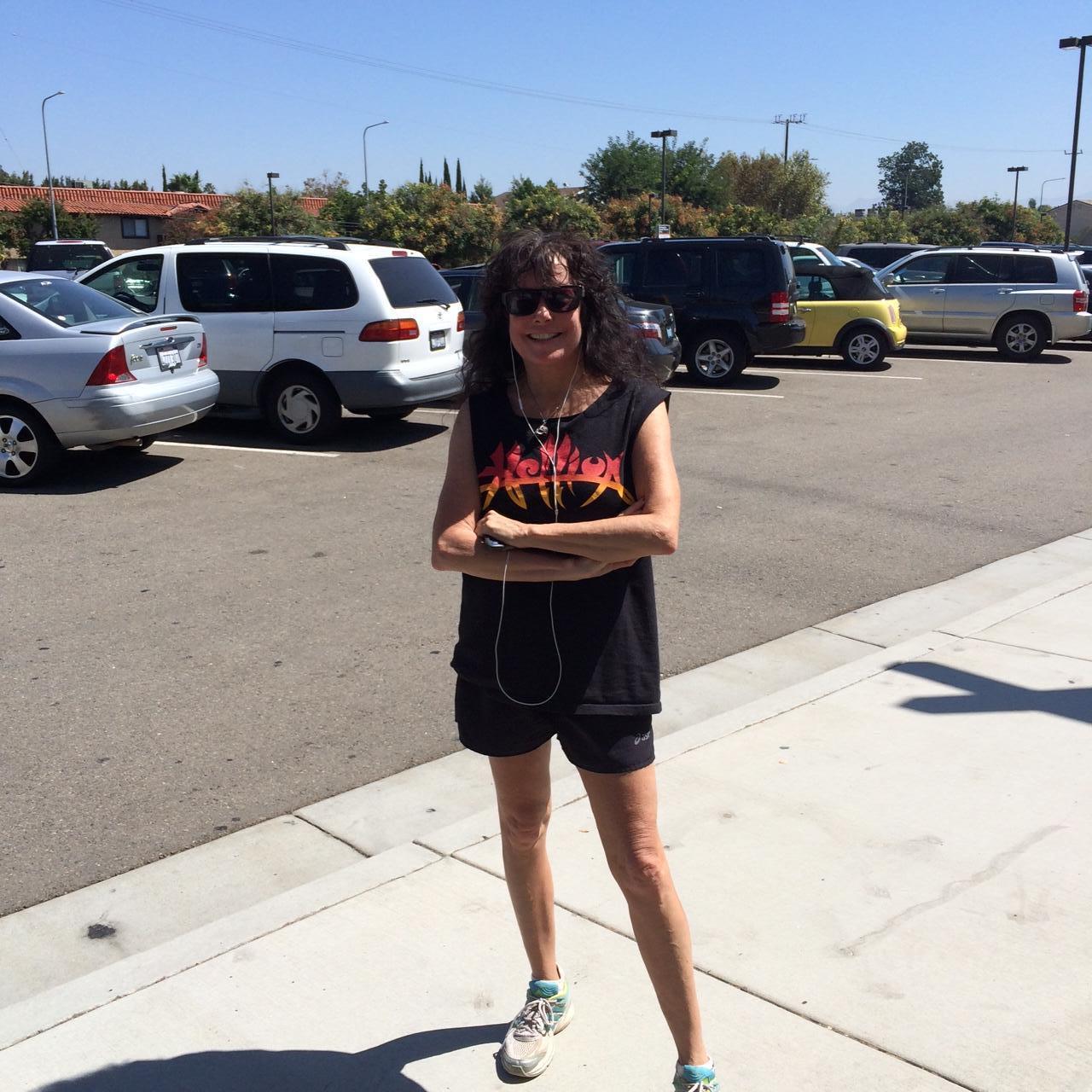 Hi Everybody,
The hot California heat is not stopping me from getting the exercise I need to prepare for the "Karma's A Bitch" North American tour!  A lot is happening, so I'll get to business.
First of all, the tour is shaping up nicely.   Since Hellion had not played for so long, initially the promoters were hesitant about booking us.  The last official Hellion show was the Monsters of Rock in Russia - and that was a long time ago!
The original idea was to do five or so shows over a ten-day period and then see what happened.  In a short period of time, however, five shows turned into ten, and then to twenty at last count.  Ticket scalpers are already re-selling tickets to some of the shows.  
The tour kicks off off at The Whisky in Los Angeles on Thursday, October 2nd.  This will also be Hellion's album release party, too.  For tour dates click
here
.
Our goal is to make each of the shows on the tour very special.  In this spirit we are pleased to announce that Las Vegas is celebrating Hellion's return with a free Hellion show at Count's Vamp'd on Friday, October 3rd.  From there we go to Mesa, Arizona.  There will be a free meet and greet the day of the show.  We will give you more details about all of the special events as the information is confirmed.  
A few of you asked if Simon will tour with Hellion in October, since he is touring at the moment with our friends in Operation: Mindcrime (formerly known as Geoff Tate's Queensryche).  The answer is yes.  The touring line-up of musicians will include myself, Simon Wright, Scott Warren, Maxxxwell Carlisle, George Dolivo (from Rhino Bucket who is coming with us as a special guest rhythm guitarist and backing vocalist, and a bass player (who many of you know) whose name we will be announcing very soon.  Bjorn Englen is the only person on the Karma's a Bitch CD who won't be with us.  (Bjorn had a prior contract to play with Tony McAlpine).
For those of you who live in cities or countries that are not included in this round of shows, there is some good news.   We have been asked to do more US shows through our booking agency, ATI.   Also, we are in the process of setting up shows in the UK and Europe.  At this moment we do not yet have shows in Japan, Australia, or South America.  But, we'd have not forgotten about our friends there, and are working toward the goal of shows in those countries.
The "Karma's A Bitch" CD will be released in the USA on October 7th and in the UK and Europe on October 8th.  For those of you who have been asking, you can now pre-order the "Karma's A Bitch" CD on Amazon by
clicking here
.  If you are planning on attending first few Hellion shows and want to get Hellion's new CD in time for those first shows, you can also order a special fan pack that comes with a tee shirt by
clicking here
.  We will make every effort to ship the fan packs so they are received before the tour starts.
We are also working on a new line of merchandise.  We listed to your suggestions and will be adding hoodies, ladies tank tops, long sleeve t-shirts and other items to our store next month.  We will also have some items that will only be available for sale at the shows.
If you live in one of the cities where Hellion is playing in October and would like to be part of the street team (AKA:  HELLION HELL-pers) please contact Brenda Starr via Facebook.  (She posts often on the Hellion page.)
Thanks again for your support!  
Best Witches,
Ann Boleyn