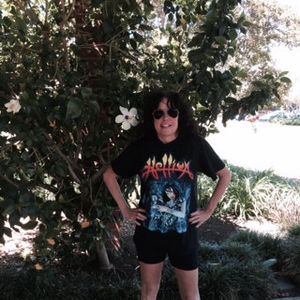 Hi Friends,
Another busy day getting ready for Hellion's "Karma's A Bitch" tour!
Early in the morning, Simon Wright emailed me that he was in Salem, Mass. and keeping his eyes out for witches.  He said that the Operation: Mindcrime show was packed last night.  
Next, I handled a very mundane task -- getting a device so I can strap my cell phone to my arm so I don't lose it when I'm on the road!  Back in my days of marathons I used one of these things and it seemed to work well.  Mission accomplished!
By the time I was able to get to a place I go to get exercise it was close to 100 degrees!  Too hot to run, so I walked the 5 miles!  
During my walk I talked to Brenda Starr on the phone.  Brenda is organizing Hellion's street team and she is doing a great job.   PS:  Brenda told me that the street team in Ottawa, Canada, are doing an especially great job.  (Can't wait to play there!)   
We also discussed some contests and ways that our friends can participate is spreading the word about the new CD and tour -- even if you do not live near a city where Hellion will be playing.  
The first contest is very simple.  Just sign up for Hellion's e-mail mailing list between now and September 15, 2014, and you will be entered into a raffle for free merchandise.  You can sign up for Hellion's mailing list
here
.  We will be announcing a new contest tomorrow.
Also, beginning on Sunday, August 17th there will be a link at the top of the official Hellion page where you can download Hellion music for FREE.   Each day the songs will change.  Many of the songs are ones that Hellion will be performing live on tour.  Take advantage of this while you can!  
This is the link
to get your free song.
Later in the day I went to see Al Bane who is helping me with the design and creation of leather items for my tour wardrobe.  I designed 80% of the clothing I have worn over the years.   However, some of my favorite items are worn out.  Al is helping me re-create and update some of my favorite pieces.  
After I got home, I listened to an excellent soundtrack that Scott Warren is working on.  I also continued putting together the Hellion set list for the tour.
Right now its getting close to 10:30 p.m. and I can feel a slight sunburn!  Time to sign off the computer and get back to work on preparing the set list.
Until tomorrow!
Best Witches,
Ann Boleyn