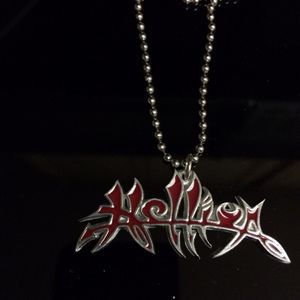 Until the beginning of the first leg of Hellion's "Karma's A Bitch" tour --  Hellion is offering a free download of a different Hellion song every day.
Today's free download is "
The Black Book.
" It is NOT remastered.
This song is also on Hellion's 2-CD (US editions are autographed) anthology.  If you are in the USA, you can purchase Hellion's 2-CD "To Hellion & Back" CD anthology
here
. (US versions are autographed).   If you are in the UK or Europe, you can pre-order the new Hellion CD (to be released on October 8th)
here
 - or order the anthology from that same company.
To get your free download, please scroll to the bottom of your screen and click on the button at the right bottom corner that says "free."  You will be prompted to enter your email address.  Your free download will be emailed to you.
If you prefer to download using Soundcloud, the link is
here
.
Thanks for your support!